Exhibition Marketing Advice That Works
Hi, I'm Ron Smithburger.
I'm going to tell you a trade show secret.
People want excitement when they are attending a trade show. Let's be honest. It's a refreshing change to grab a golf club and whack a ball while competing in a contest! You forget that you are at a business function, right? (so compelling you come back every day!)
Delivering fun through memorable, interactive entertainment at a trade show or corporate event (that's us) is an excellent branding strategy for any business. T-G-S-E's golf simulators will help you to achieve those goals. We will help you to:
  1. Get traffic to your booth
  2. Keep your guests entertained
  3. Gain subscribers and new business leads
  4. Send follow up e-mails for marketing
  5. Brand your company
Over 500,000 people have enjoyed the golf simulator experience… join them!
About T-G-S-E's Founder Ron Smithburger
T-G-S-E was established in May of 2004 by Ron Smithburger. Ron is CEO of T-G-S-E, a technology specialist and golf entrepreneur.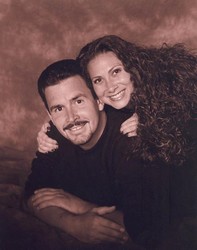 Ron and Alyssa Smithburger
Ron built and marketed two successful golf companies online; then switched to a separate golf simulator rental business model with T-G-S-E. The company provides innovative techniques to help companies to brand amd market their businesses successfully through interactive entertainment.
We've worked with a very exciting client base. Here are just a few:
MTV Rob Dyrdek's Fantasy Factory See video here: Fantasy Factory
Sugar Ray Leonard Charity Fund Raiser Charity Video
TNT Junket for Ray Romano's Men of a Certain Age
Kraft Nabisco LPGA Kraft Nabisco Championship KNCGolf.com
Oakley Spring 2012 MVP Roll Out Oakley.com
Puma Golf Golf product launch party Puma.com – golf
Toshiba Classic Senior Golf Classic ToshibaClassic.com
Lamborghini Luxury Evening See images here: T-G-S-E.com
The list goes on and on… So, leave your competition in the rough with the high profile visibility of one of the World's most advanced golf simulators!
If you have any questions, feel free to contact me.
All the best,
Ron Smithburger